It sounds like the perfect facial for Halloween, but in reality, Dracula's favorite facial (also known as a PRP facial) can do amazing things for the skin any time of the year. This aesthetic treatment has gained popularity among celebrities and those on a quest for more bright and youthful looking skin. The good news is that this increasingly popular treatment is available to you too and may be as near as your favorite med spa, such as New Leaf Spa and Laser.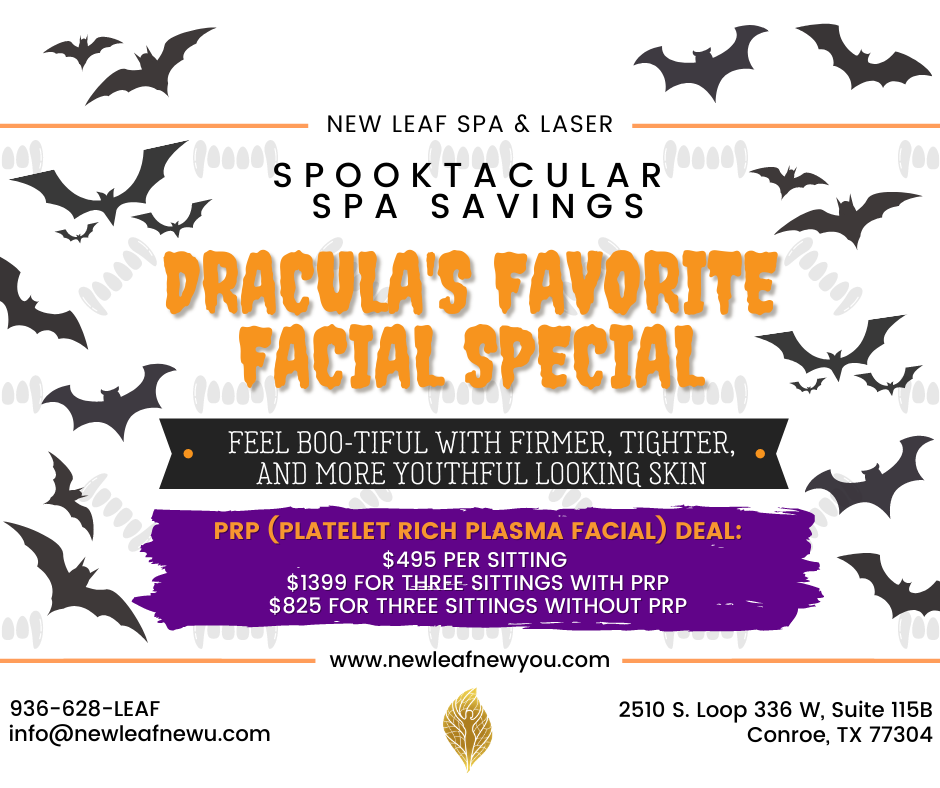 What Makes This Dracula's Favorite Facial?
How we look often affects our levels of self-confidence and our overall attitude in daily life. Those with any of the following skin issues may find this facial to be beneficial beyond reasons that are skin deep:
So, how does a PRP or platelet rich plasma facial earn the extraordinary label of being Dracula's favorite? The answer is in the key component of this treatment, the injection of a patient's own blood back into the skin on their face. While this explanation may cover the name of the facial, it can leave many asking the question, "But, why?" The answer to this question can be found in the visible results themselves.
What Dracula's Favorite Facial Can Do for The Skin
Patients typically report some skin redness that can mimic a mild sunburn for roughly twenty-four to forty-eight hours or so following the facial. Depending on each patient's unique experience, some may choose to briefly pause unnecessary engagements until the redness has faded.
While this procedure can require a small period of recovery time in which the redness of the skin gradually subsides, many patients consider it a small price to pay for the benefits of the facial, such as:
Patients say these skin improvements ultimately leave them feeling more youthful with the additional benefits of:
Many patients are so pleased with the results that they take great care to protect their skin going forward so that nothing will undo or tarnish their new youthful glow and smoother skin.
How Dracula's Favorite Facial Works
The goal of a facial is to ultimately leave the skin in a clearer, smoother, more youthful looking condition than it was before receiving the treatment. The PRP facial offers a unique way for the body to play an active role in healing itself. Specifically, platelets found in a patient's plasma can be injected into facial skin to facilitate the healing process.
Here is how it typically works when a patient comes in for Dracula's favorite facial:
Patients can expect to receive a brief consultation on how the facial works and probable results. This is the time for patients to ask any questions they may have.
A patient's skin is thoroughly cleaned to remove harmful dirt or contaminants from the facial skin. The clinician will administer a topical anesthetic to the face.
The clinician will take a small sample of the patient's blood, usually via an arm vein, to be used for the facial.
The platelet rich plasma is removed from the blood sample via a centrifuge (a piece of equipment that can rotate the blood sample at a high speed that facilitates the separation of PRP).
The newly harvested PRP is then injected into the patient's facial skin via microneedling.
While injecting platelet rich plasma from your own blood may not sound like anything special, it is advanced skincare technology that creates a direct passageway into the skin that initiates healing, starting in the deepest layers of the skin.
The length of the treatment often depends on each individual's specific aesthetic needs. While some patients may only require a few targeted injections, others may be looking to achieve a more complete look which can require a dozen injections or more. On average, the facial takes approximately an hour, including numbing time and post-procedure care instructions.
Although some patients may only receive one PRP facial and be satisfied with the outcome, results are often best acquired through multiple treatments that are spread out over several months. Since the PRP facial begins healing in the deepest layers of the facial skin first, it typically takes time for new cells, collagen, and blood vessels to form and yield more youthful looking skin.
Some patients may start to see results in as little as a week, but the results that come at the one- or two-month mark generally outdo those first week results. One of the biggest perks of a PRP facial is that it may be possible for the effects to last up to a year or more after treatment has stopped.
The Importance of Seeking an Aesthetician with A Medical Background
Any time a patient is receiving a beauty treatment that involves something as advanced as microneedling the blood into the deepest layers of the facial skin, it is an excellent idea to ensure that the staff performing the procedure are well equipped and trained to do so.
Look for a spa or beauty center that employs aestheticians that also have a medical background. This can give patients added peace of mind that the person performing this technical treatment understands both the aesthetic and medical concepts required for a successful procedure.
If you are looking for younger and smoother looking skin, consider stopping into New Leaf for Dracula's favorite facial and beautiful looking skin that will have people asking you to spill all your beauty secrets.
Latest posts by bri marin
(see all)