Skin and Body Treatments for Men
Our Med Spa specializes in skin & body laser treatments for men, serving Conroe, Willis, The Woodlands, and surrounding areas. If skin rejuvenation or body treatments are something you have considered and want more information about, consider contacting our med spa to speak with a medical professional. Together we can identify the treatment that can best enhance both your appearance and confidence so that you can be the best version of yourself.
In today's society, it is becoming increasingly common for men to seek out skin and body treatments to feel more empowered and self-confident. In recent years there has been a marked increase in the number of men seeking appearance-related treatments such as those for laser hair removal, hair restoration, acne, and more. Men seeking these types of treatments should consult with a reputable provider to learn more about any service they are considering.
Choose a provider that has trained medical professionals on staff rather than staff trained only in a procedure without a medical background. Taking the time to do this can increase your confidence in the provider, the treatment itself, and the results.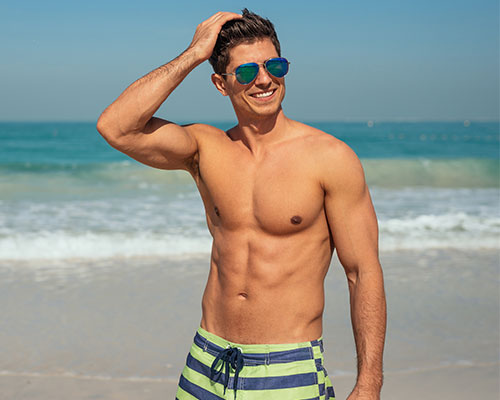 Stretch Marks
Weight gain, whether it is from overindulging or bodybuilding, can cause unwanted stretch marks. Via the use of the Fotona SP Dynamis laser, the visible presence of these stretch marks may be reduced. This procedure may take several sessions but is minimally invasive and can leave skin looking and feeling smoother.
Laser Hair Removal
Men dealing with the appearance of unwanted hair that grows along the base of the neck, shoulders, back, or even chest, can impact the way they feel about themselves and their confidence. With a simple laser treatment, that hair can be removed with generally long-lasting results.
Body Contouring
For men uncomfortable with unwanted curves in the way of love handles or a stomach pooch, a Fotona SP Dynamis laser treatment may be able to provide natural looking results that leave you feeling and looking more toned and in shape.
Facials
For the man that is not satisfied with the condition of his skin, getting a professional facial may help increase his self-confidence. Facials may be able to help brighten the skin and reduce the appearance of acne as well as give the skin a healthy glow.
Nail Fungus
The locker room can be a place where fungus breeds, which can be one of the ways men can develop nail fungus. This discoloration or brittleness of the nail can sometimes be easily visible, leaving most people wanting the fungus removed. A laser treatment may be able to assist with the reduction of nail fungus.
Acne Treatments
Facial acne in men can be impacted by hormones, aging, and even sweat from intense daily workouts. To determine the best way to treat a patient's acne problem, it is best to set an appointment with a professional for a treatment plan that is tailored to your specific acne needs.
Snoring
It can be uncomfortable for a man and his sleeping partner if he experiences raucous snoring when sleeping. In order to assist with this issue, the Fotona laser can be used to treat mucosa tissue which may be able to keep snoring-related noise at a minimum.
Wart Removal
Although typically fairly small in size, warts can make an individual feel unsure about their appearance. Fortunately, a spa professional can treat warts associated with the human papillomavirus and reduce their appearance or remove them to leave skin more blemish free.
4D Non Surgical Facelift
Men wishing to have younger and more youthful looking skin may want to take advantage of a 4D nonsurgical facelift. By using the Fotona laser system, the treatment may yield tighter and smoother skin that looks smoother and younger in overall appearance.
Pigmented Lesions
Small patches of discolored skin, often referred to as pigmented lesions, can be quite common. Though sometimes troublesome in appearance, many are benign. This treatment is often popular for treating these types of lesions as it is designed to destroy the pigment without ablating the skin.
Hair Restoration
Regardless of if it is due to genetics or the effects of aging, hair loss is a condition many men can experience at some point in their lives. A type of low-level laser therapy can be used to stimulate hair growth in patients. Laser therapy can be a more attractive hair restoration method as it is considered to be much less invasive than a hair transplant. Hair restoration via laser can require a number of treatments stretched out over a period of months or longer.
If you are a man that is considering one of the above skin or body treatments, please reach out to New Leaf Spa and Laser today to see how we may assist you.