Spring is in the air and for many that means skin baring swimsuits, flirty summer dresses, and muscle shirts. This has more people looking into laser hair removal for a smooth spring break and summer. Don't let fear of leg stubble or unsightly hair growth in prominent places hold you back from feeling and looking like your best self. Laser hair removal can be an efficient and longer lasting way to keep unwanted hair at bay.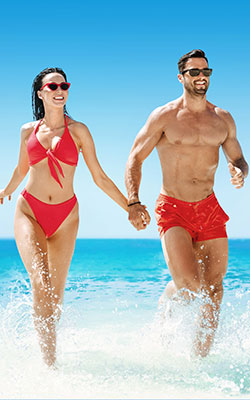 What Is Laser Hair Removal and How Does It Work?
Unwanted hair growth does not have to be something an individual is forced to live with when laser hair removal is a valid option. Increasingly, those who struggle with unwanted hair growth are turning to laser hair removal because it is a nonsurgical procedure that generally offers more sustainable results than other common hair removal methods.
Rather than jerking a hair painfully from its root as is done with methods like tweezing and waxing, laser hair removal is designed to use light beams to damage the root. By doing this instead of yanking the hair out, it can substantially inhibit subsequent hair growth.
The process effectively reduces unwanted hair growth in treated areas. Some patients may require multiple treatments to achieve their desired look. In addition to patients generally experiencing longer periods of little to no hair in between treatments, hair that does grow back often looks thinner and lighter, which can soften its appearance.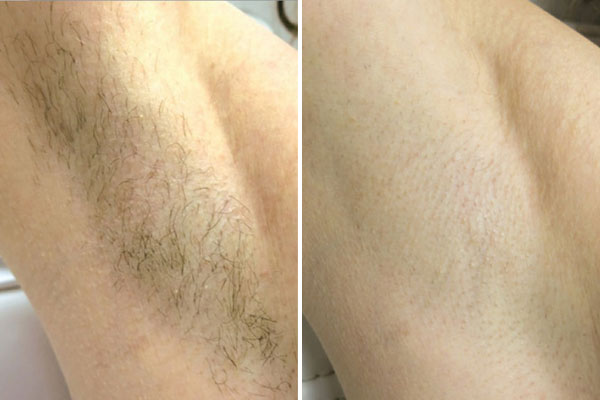 Common Problem Spots That Can Benefit from Laser Hair Removal
Both women and men can experience unwanted body hair growth that may affect how they feel about themselves and how they look.
For women, common problem spots for body hair can be:
Men typically seek hair removal for different areas of the body such as their:
Both sexes may also seek removal of unwanted body hair on their:
Benefits of Laser Hair Removal and Why Many Choose It Instead of Other Methods
Laser hair removal is one of the fastest growing beauty treatments in med spas because of the number of benefits it yields. The most common benefits reported by patients receiving this type of specialized treatment can include:
Compared to other methods of hair removal, many patients find a laser based method to also be more comfortable for the following reasons:
Disadvantages of shaving:

Shaving involves a number of different tools including creams, razors, and lotions that need to be replaced on a routine basis for the best shaving experience. Shaving may be required almost daily to keep unwanted body hair absent. For most individuals, the major complaint against shaving is the trail of nicks, bumps, and ingrown hairs it can sometimes leave behind.

Disadvantages of tweezing:

The tweezing method is generally limited to smaller areas of unwanted hair such as the eyebrows. The main drawbacks for tweezing are the pain that can be involved for those with sensitive skin, the possibility of ingrown hairs, and the challenge of keeping the eyebrows symmetrical if not handled by a professional.

A word about waxing:

While some salons and med spas do offer waxing services, many patients shy away from it due to the pain that is generally associated with this type of treatment. The main downside to waxing is that hair must be somewhat grown out for the wax to adhere to it. This will require periods of hair growth in between sessions, which may make some individuals uncomfortable.

Why You Should Be Thinking about Laser Hair Removal for Spring Break and Summer Now
With spring break on the horizon and summer around the corner, don't panic if you are not yet swimsuit ready. There is still time to visit your local spa to make an appointment for a consultation.
Depending on each unique patient's needs and the amount of hair they would like removed, it could take multiple treatments to achieve the look they are hoping for. As the amount of hair a patient would like to be rid of increases, so may the treatment timeline.
While spas are a popular place to receive laser hair removal treatments, take the time to ensure that the spa you choose is staffed by a licensed medical aesthetician with years of experience. This can give you added peace of mind regarding the outcome of the treatment.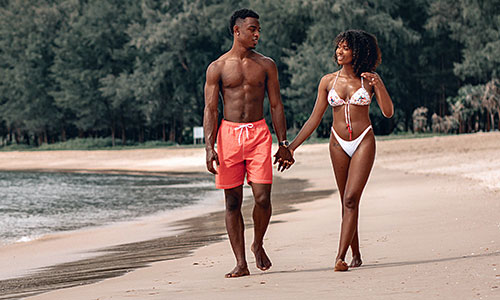 Don't let embarrassing hair growth keep you from enjoying the warmer months ahead. Contact New Leaf Spa & Laser and make a consultation today to discover how getting laser hair removal can make for a smooth spring break and summer, and a more confident you.