While many are already familiar with the term facial and the amazing benefits one can offer in terms of a more youthful glow and softer, more supple skin, the beauty industry has taken this general practice a step further and offered it in a variety of different forms. One of the most popular types of facials for individuals wanting to turn back the aging effects of time is the hydrofacial. A gentle and mild treatment, the hydrofacial helps clean, exfoliate, and hydrate skin via a special five step procedure that requires little to no recovery time.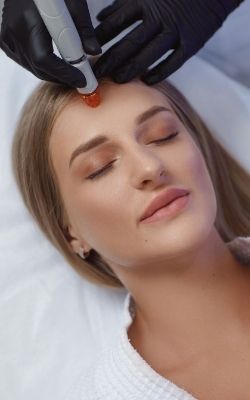 At its heart, a hydrofacial is a treatment that cleanses and exfoliates to make skin look younger, but it is medically enhanced to hydrate and rejuvenate skin. This means that is goes beyond managing the skin's signs of aging as it can also address other common aesthetic issues, such as:
Unlike other facials, a hydrofacial uses patented technology to better rid the skin of problem-inducing impurities while replenishing its hydration. This combination has the effect of minimizing some minor signs of aging while making the skin feel softer and look more youthful.
There would not be a need for a hydrofacial if it did not provide additional benefits beyond that of a basic facial. This treatment is designed to be a superior option with the primary benefits such as:
Fast and visible results: Most hydrofacials last anywhere from thirty minutes to an hour and typically provide noticeable results within minutes to hours after a treatment. No discomfort: While some aesthetic procedures can be painful, the hydrofacial is designed to be a comfortable and relaxing experience that patients often describe as a light massage of the face. Little to no recovery time needed: Timing can be a critical part of deciding when to go forward with a treatment, especially if the skin is expected to be irritated or peeling in the hours and days after. Fortunately, this type of facial requires little to no recovery time for most patients. Minimization of hyperpigmentation and age spots: The facial can minimize the appearance of stubborn age spots and may help even out hyperpigmentation. Decrease in the appearance of pore size: As the skin is exposed to contaminants and debris continuously over time, they can become imbedded in the pores of the skin which can make them grow larger. However, by removing the debris and impurities via a hydrofacial, it has the capability to make pores appear smaller. Reduction in the appearance of wrinkles and fine lines: By hydrating the skin via this treatment, it can reduce the appearance of fine lines and wrinkles which may make the skin appear younger. Customization: The gentleness and flexibility of the hydrofacial allows it to be combined with a number of other beauty treatments. Patients should speak with their aesthetician about what other procedures they typically recommend in combination with a hydrofacial.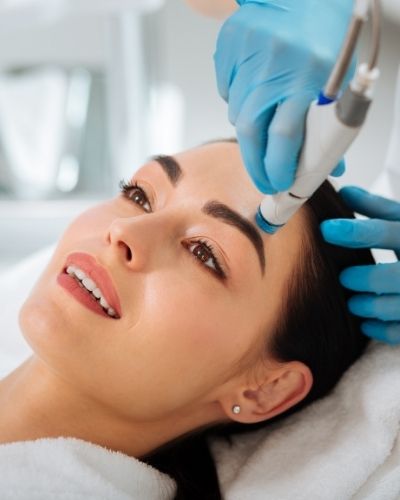 The 5 Steps of a Hydrofacial
For a facial treatment that yields so many benefits and perks, it often leaves patients wondering about the process and the intensity of the treatment. The hydrofacial typically follows these steps:
Cleansing of the skin: The first step in any skin treatment should be to thoroughly cleanse the skin of any impurities. Not only does it help remove harmful contaminants, but it also helps prepare the skin to embrace the following steps.
Exfoliating the skin: The exfoliating process is next and is designed to remove dead skin cells and provide a debris-free surface.
Administering the peel: While peels can have different chemical makeups and intensity, the hydrofacial delivers a gentler peel that uses salicylic and glycolic acid to aid in loosening impurities sometimes found deep in the skin's pores.
Extracting skin debris: After the skin's impurities have been effectively loosened, a special vacuum provides enough suction to collect them. This facilitates the removal of debris such as blackheads that can cause acne and other skin blemishes.
Hydrating the skin: This last step is the most integral step of the hydrofacial in which key peptides, hyaluronic acid, serums, and antioxidants are applied to the skin to help hydrate and brighten the skin.
Post Treatment Sun Protection
Any time a person receives a facial, peel, or similar skin treatment, the dead skin cells have been removed, leaving fresh skin bare and more exposed. While this is the ultimate goal of most of these treatments, it can put skin more at risk for sun damage. For this reason, it is important to conscientiously apply products with SPF that are designed to protect the skin.
Patients with questions about specific sun care products to use following a treatment should visit with their provider about the right products for their specific needs.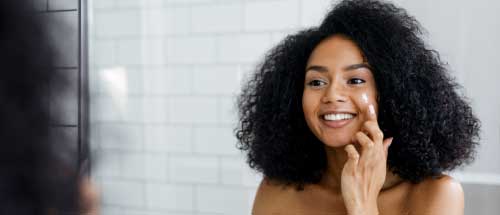 What to Look for In a Provider
The skin is the largest organ of the body and it is designed to last a lifetime, so any time an individual considers getting an aesthetic treatment for the skin, it should be from a provider that is both experienced and well-vetted. It is recommended to seek out the services of a licensed medical aesthetician who has training in a number of different treatments such as microneedling, dermaplaning, chemical peels, laser hair removal and more.
Those interested in learning more about hydrofacials and the benefits they can offer should reach out to a licensed medical aesthetician today.